Unlock the freedom of flexible financing options with Affirm Finance!

Spread the cost of your new EPG PC effortlessly over 3, 12, or 18 months, allowing you to enjoy your purchase without the burden of immediate payment.
How to use Affirm Financing?
After adding everything you need to your cart and entering your shipping information, choose the "Affirm - Pay Over Time" option and press "Pay now".
After clicking "Pay now", you will be redirected to Affirm - Pay Over Time to complete your purchase securely.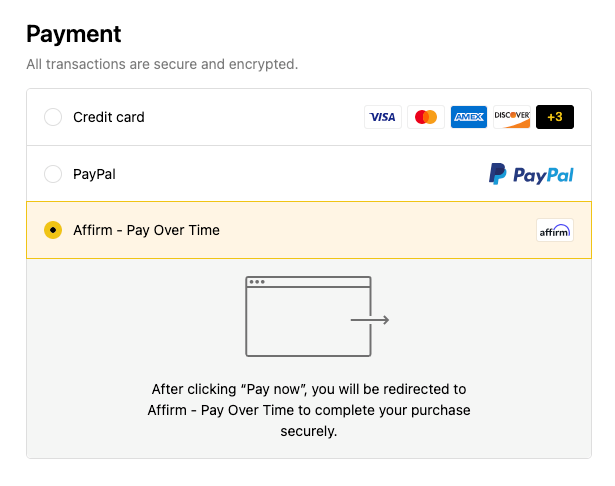 Would you like to be pre-approved before shopping?
FAQ
Do you have any questions? Checking our FAQ might provide the answers you're looking for.
How do I make my monthly payments?

Payments will be made by automatic pre-authorized debits from your checking account or credit card.
How much can I spend with Affirm?

Affirm financing is available on orders of $50 to $15 000.
What is Affirm current interest rate?

Customers can obtain Affirm financing at an interest rate of 9.95% and up to 19.95%, depending on their creditworthiness.
How long will it take to receive my order?

In general, computers are shipped in 5 to 10 business days. This includes the time to assemble the computer and the time of delivery.

If the delay is longer, it will be mentioned on the product page.
Who can apply for an Affirm installment plan?

Affirm payment plans are available to Canadian residents of the age of majority, either 18 or 19 depending on your province.
Can I use Affirm to pay for only part of a purchase?

Affirm financing is applied to your entire order.

However, you can add a discount coupon to your EPG account and use it to reduce the amount of your next order. See here
Can I pay my Affirm balance?

Yes, all Affirm installment plans can be fully paid at any time without penalty.
I was unable to complete an Affirm transaction. What happened?

Unfortunately, Affirm cannot offer installment plans to all applicants. This may be because of information on your credit report, or because Affirm was unable to verify your identity or payment method.


For more information, contact Affirm.
How do I access my Affirm account?